Department of Mechanical Engineering
Dr Nilaj Deshmukh
---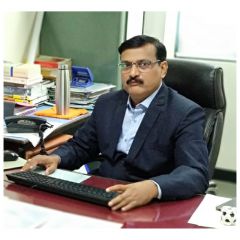 Name : Dr Nilaj Deshmukh
Qualification : Ph.D (IIT Bombay)

Designation : Head of Department
Email id : nilaj.deshmukh@fcrit.ac.in
Message from Head of Department
Mechanical Engineering happens to be the back bone of any industry with amazing versatility. The Department of Mechanical Engineering strives to train students for future leaders with high-quality engineering education. The aim of Department of Mechanical Engineering is to disseminate knowledge and technologies through quality teaching, research and its applications in mechanical and allied disciplines.
The Department has well-equipped labs to impart sound practical knowledge of the subject. The department has dedicated and competent faculty members to develop a center of excellence in the field of vibration and acoustics. To develop skill sets of the students, department is organizing lecture series and hands-on training courses in different domain areas.
Mechanical Engineering Students Association (MESA) and students' chapters of professional bodies, like ISHRAE, SAE etc. contribute greatly to bridge the gap between academia and industry. The department also runs a Post Graduate program with specialization in Machine Design and also a Doctoral Program in Mechanical Engineering. These students play a key role in the development of research activities of the department.
I wish all the success to the students in their future endeavour and wish them to join us on the journey of quality education and to have a great learning experience with our expert, dedicated and care taking team.